William Hopper's Rover 3.5l V-8
I have been a Triumph Sports car enthusiast since 1972 with the purchase of a GT6. In the years that followed I have owned 9 GT6's, 7 Spitfires, 3 TR7's and 1 TR8.
This Spitfire was preceded by two 6-cylinder Spitfire project cars. My first attempt at a Spit-6 was the transplant of a GT6 2.0 litre engine resulting in a Spitfire 2000. This was a straightforward swap and very rewarding as it combined the best properties of both the GT6 and Spitfire. The sound of that GT6 engine at highway speeds with the top down is exhilarating.
With success I became more ambitious and constructed a Spitfire 2500. The slight performance increase of this 2.5 liter TR6 engine (105 hp) over the 2.0 liter GT6 engine (95 hp) did not justify the added effort in shoehorning this taller engine into a Spitfire. In retrospect, I feel that the GT6 engine is without a doubt the better choice for a Spit-6 project.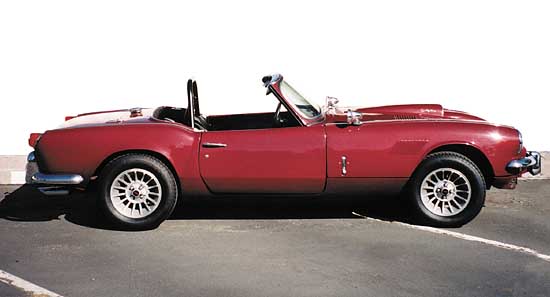 Our Spitfire 3500 project comes as close to owning a 427 Cobra as we are likely to ever see. The aluminum 3.5 liter engine has been upgraded with a performance camshaft, higher compression pistons, a 390 cfm Holley carburetor, and custom-made headers. This brings the engine's output to an estimated 200 horsepower. The front suspension and brakes have been borrowed from a GT6 and Quaife limited slip differential have been added for good measure.
The car weighs in at 1780 pounds making a impressive power-to-weight ratio. Under hard acceleration, this car grabs your attention like no other car I have ever driven. The handling is surprisingly neutral with the aluminum V8 engine weighing less than the 6-cylinder cast iron blocks. All considered I would have to say that I am very pleased with this most recent engine swap.
Only when parked along side another Spitfire does it become evident that this Spitfire 3500 is actually 8 inches longer than stock. The bonnet and frame have been extended to accommodate the new engine along with its 5-speed transmission. This is a Triumph TR8 in Spitfire's clothing.
My wife Christie stepped into the garage as I was working on this car one evening and made the following profound statement: "Why don't you just bolt in a jet engine? You are going to do it eventually anyway!" I can see why she would consider that to be the next logical step in my series of engine swaps.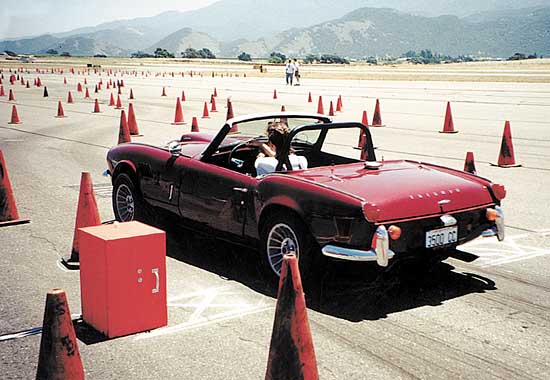 One of the more memorable events with this car occurred during the Moss Motors British Car Festival held in Solvang, California in 1998. I was preparing to race my Spitfire for the first time in the Autocross slalom competition when I was made aware of a "Women's All British" class. I had a difficult time persuading Christie to enter this competition and when she finally agreed to race, she pointed out that she had never actually driven this car before. She only had a few minutes to acquaint herself withe the car before taking her first of 3 timed runs. Her lap times improved by several second on the second and again on the third and final run. Following this display of driving prowess, she received the award as "The Fastest Female British Car Driver" of the 2-day event. I could not have been more proud!