Seat Belt Warning System- All 1972 Triumph Vehicles
April, 1972
Federal Safety Standard number S208 requires that all passenger cars manufactured on or after January 1, 1972 shall be equipped with a seat belt warning system provided for the front seats.
As in the case of the ignition audible warning system, it is necessary to ensure that all vehicles so equipped are not delivered to retail customers unless the seat belt warning system is fully functional.
This item should be checked at Pre-Delivery, 1,000 Mile Inspection, and all subsequent service intervals.

Schematic Wiring Diagram – Seat Belt Warning Device – U.S.A. Markets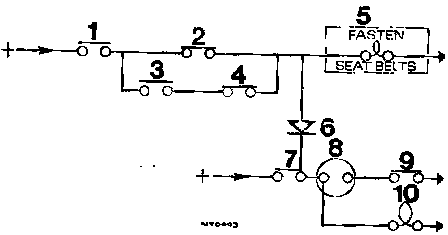 KEY
Gearbox switch
Drivers belt switch
Passengers seat switch
Passengers belt switch
Facia warning light
Diode
Door switch
Buzzer
Key switch
Key light