This info came from many discussions including ones on the Spitfire email lists and other readers' help.
Stripe Style #1 (three bars)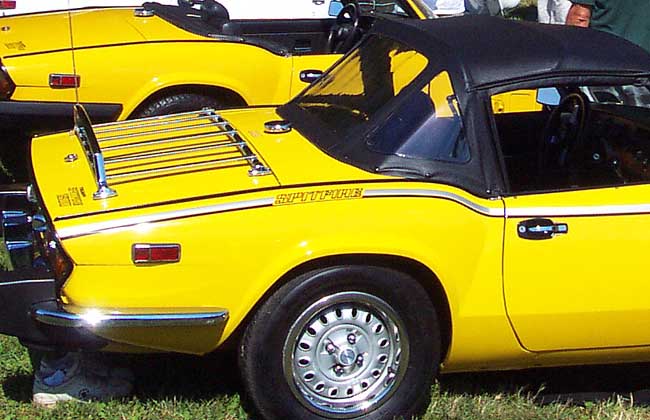 The yellow black and silver striping kit on my 1977 Inca Yellow Spitfire was a dealer installed option made by the 3M Company for British Leyland and was on the car when I purchased it. Over the years at various swap meets we have purchased at least 6 more of these same kits part # BLM105207. It is pictured in a 1980 Factory Accessory brochure on the back page. By the way the part number for the red silver and blue kit is #BLM105206. This one is featured on the car in the 1977 dealer brochure and a 1978 magazine print ad.
-Sue Barile
Followup: I have looked through all of my dealer brochures and have found that they list the following stripe options for these years:
1975 – Striping Kit in Black, silver or gold
1976 – Striping Kit in Black or silver
1977 – 1980 Striping kits by 3m Red, Silver & Blue or Yellow, Black & Silver
I really do not know much about the kits pre 77 other than what I have read in the dealer brochures, unfortunately they do not picture the option in those brochures. From what I have been told by a friend who worked at a BL dealership in the 70's they would put the stripe kit on as requested by a customer or the dealer would put it on a car on the lot that they thought would look good and make it sell faster.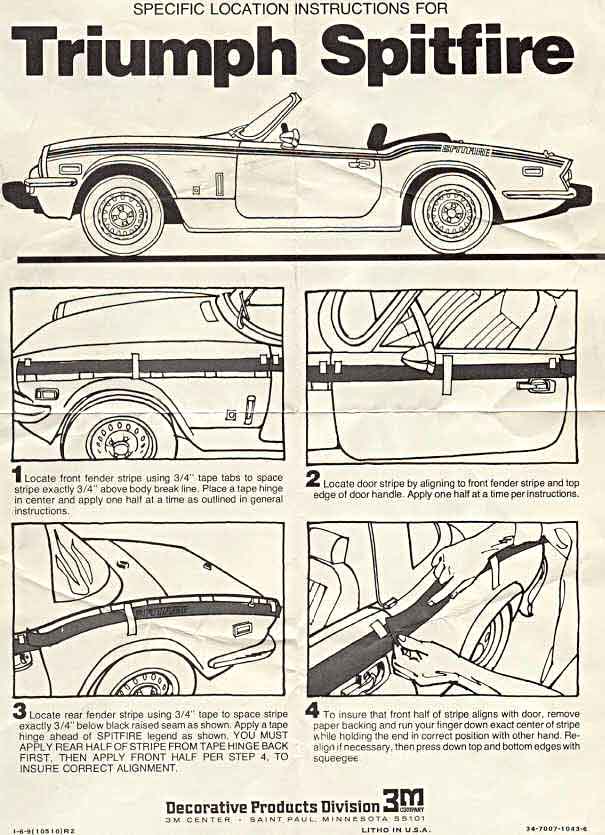 Installation Instructions (3-M)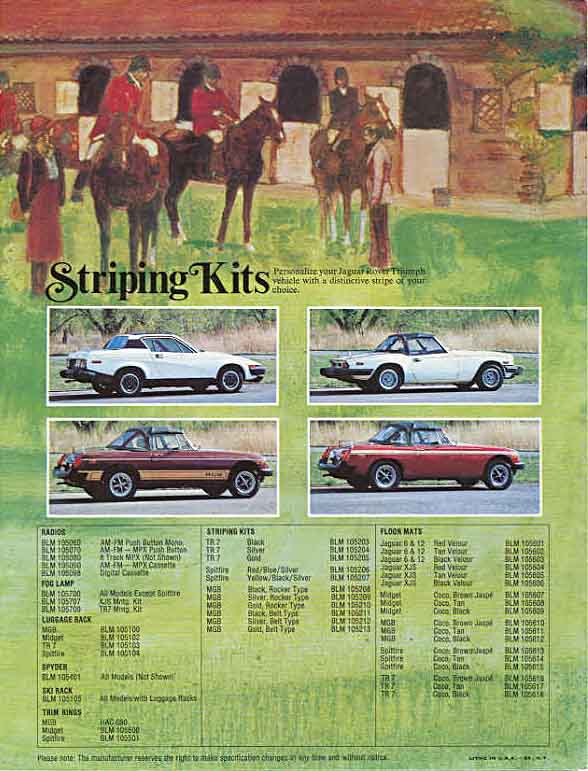 1980 Factory Accessory brochure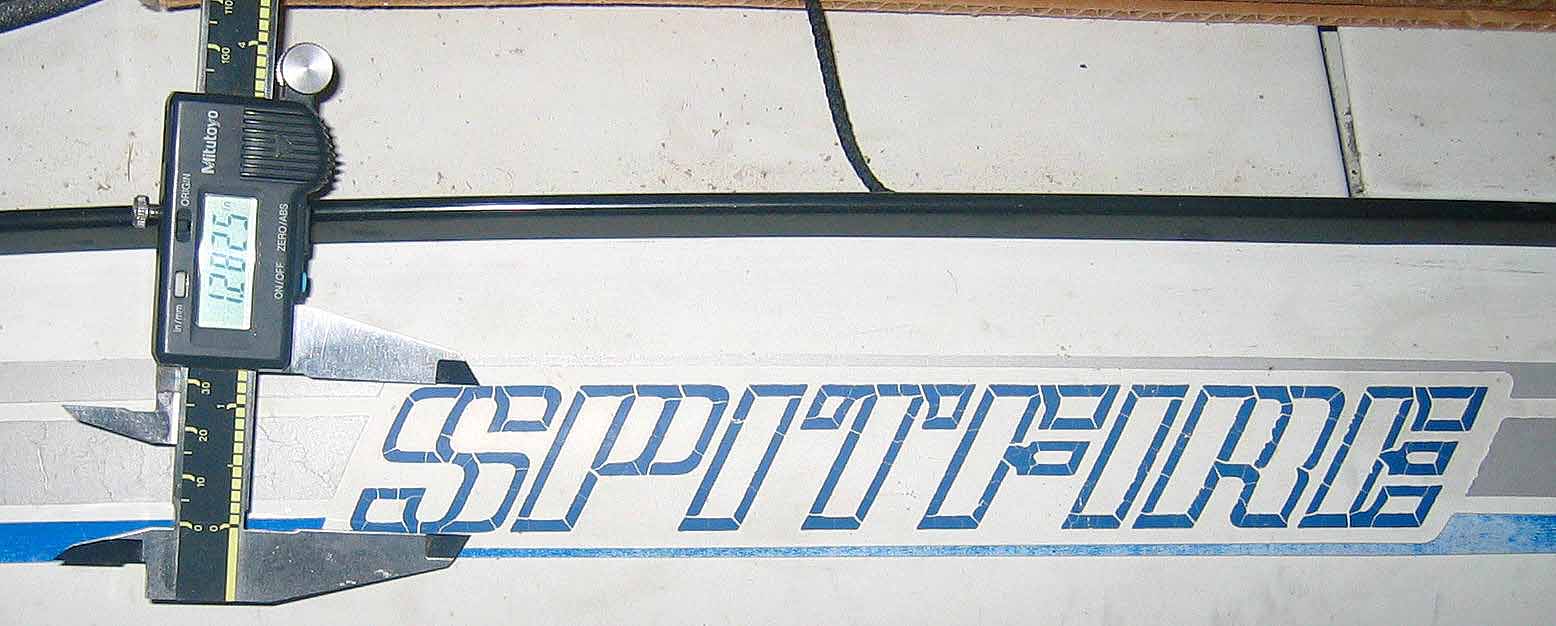 Close up photos of the word "Spitfire" on fender sent by Gene Eighmy's white 1979 Spitfire
Height: ~ 1.275″, depending on how I measure it. There is a curvature to take into account when you scale this up. I placed some tracing paper over the "S" and then measuring flat came up with 1.295″
Length: (from lower left corner of S to Lower right corner of E) ~ 9.625″
-Gene Eighmy
---
The OEM stripes are top to bottom: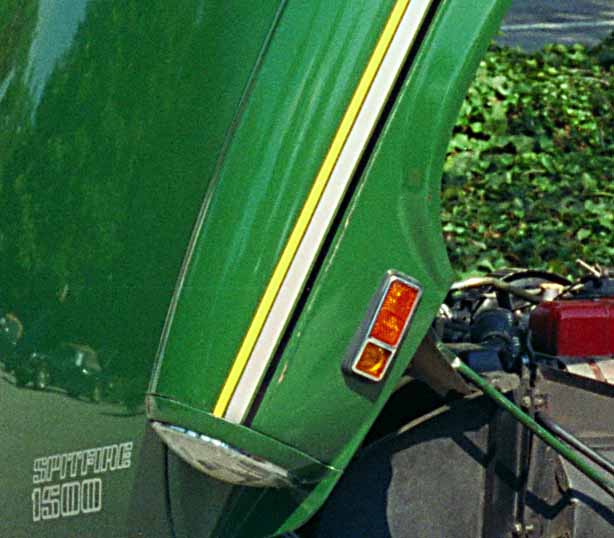 Yellow – 3/8″ wide
Silver – 3/4″ wide
Black – 3/8″ wide
The spacing is 1/8″ between all the stripes (the space is the car colour)
The area where the lettering is is a total of 1 3/4″ width, with 1/8″ between top/bottom of lettering.
As the original item is no longer available, I did the following —
Bought two of the front bonnet (hood) transfers and cut the lettering out discarding the 1500
Bought stripes from local car shop. 3/8″ is unavailable in most colours, so had to settle for 1/4″ for top and bottom stripes in 40′ length (plenty for both sides of car). Centre stripe was no problem at 3/4″, but had to get 160′ (anyone need some silver!!)
I understand there were several colour combos, such as black and red with silver for instance.
-Philip
---
My '77 yellow Spitfire (14 year 142K miles year round daily driver until 1992) had red, silver, & blue
My 1980 (back in 1981 purchased new) was Sienna Brown and had three silver stripes.-Paul Tegler
Stripe Style #2 (two bar with rear "bump")
Initial research: In the book The Triumph Spitfire, author Michael Cook mentions twice that "striping kits" were only available for the US market. The two examples shown are the 3 stripe option (stripe style #1 above shown on a 1977 Spitfire) and this option.
According to the 1975 sales flier "striping kits" were available as options in black, silver or gold. The 76 sales flier lists black and silver only. Neither flier shows photos of what the kit looks like. Gold must have been option again as the red car (below) is a 78 with gold stripes.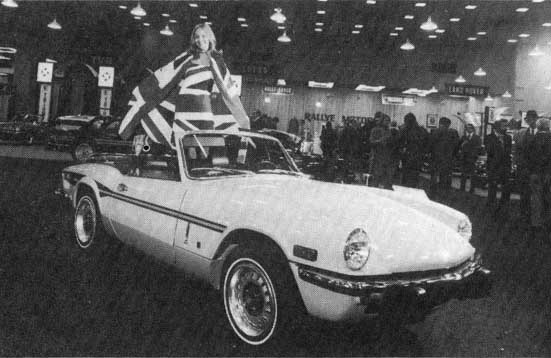 This photo was taken at the 1973 International Auto Show in New York.


Yes, there were cars that had the above stripes.

No, not limited to MkIV's. David Saunders' 76 Spitfire has the stripe and he believes it to be original since he purchased the car in "original condition" from its first owner.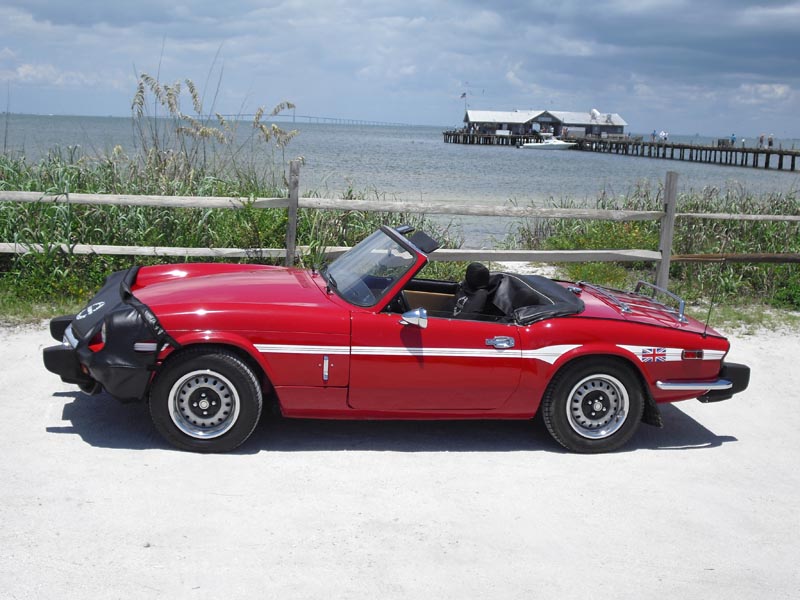 Another '76 Spitfire (owned by James Watt, Florida).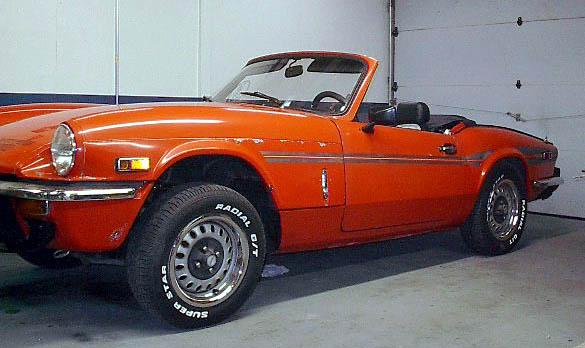 A 1978 Spitfire with original paint and gold stripe owned by Patsy Mcbride
---
My Spitfire came with the stripe decal which was an option for '74 model year. When I had the car painted in '88, the design was this… (width in inches) 1/2 silver, 1/8 space (body colour), 1/4 silver, 1/8 body, 1/2 Silver starting from behind the front wheel down the side and flaring wider behind the door in front of the rear wheel, then narrowing down to a wider stripe behind the wheel on rear quarter and it really set's the car off.
-Robert Grener
---
"The Magenta car pictured is my car, and the reason that the stripes are subtlely different, is that they are painted on.
When I purchased the car in 1975, I felt that it was a little plain, so I tried various tape stripes. In the end, I used the article on 1973 1500s from Road & Track as a pattern, and had the dealer (in the UK) paint them on. A couple of years ago, I bought a set of the dealer stripes (in black) and plan on using them for patterns when (if?) I restore the car.
These stripes, as well as the others were NOT installed at the factory, but rather at either the dealer or at the Point of Entry.
Hope this helps to clarify these stripes."
-Doug Mitchell
Stripe Style #3 (Porsche strip)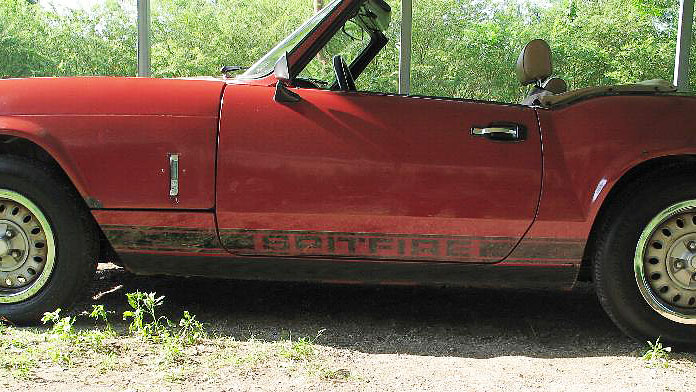 Here is another seen at a show recently. I seem to remember seeing such a "strip" in the JC Whitney catalog years ago. Maybe a windshield decal?
-John Goethert
Factory Stripe Photos (style #1)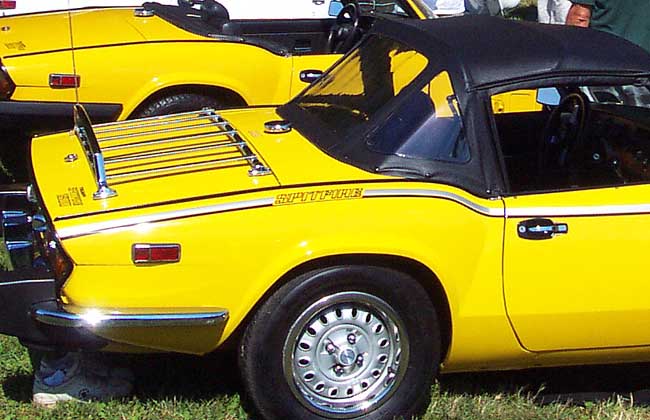 3 Stripes (yellow, silver, black)Joe & Sue Barile, 1977 1500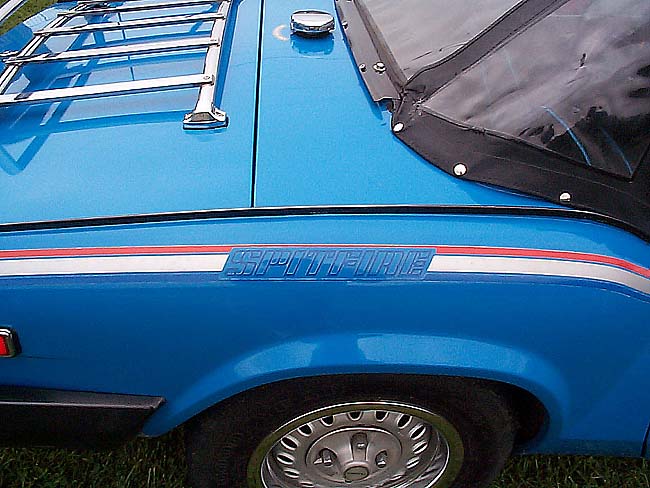 3 Stripes (red, silver, blue) on a BLUE car?!?!?!Don Smith, North Carolina, USA, 1980 1500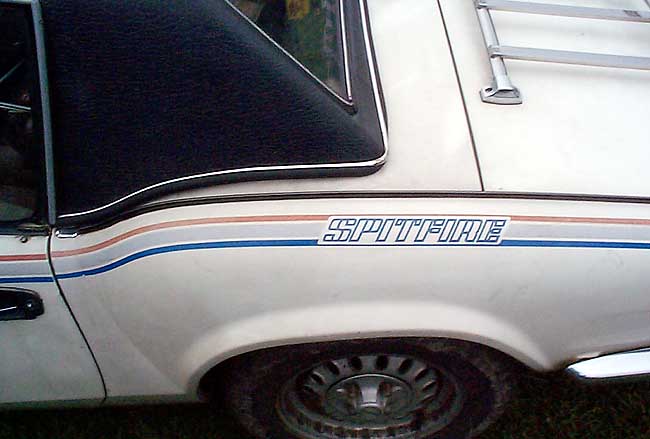 3 Stripes (red, silver, blue)Matt Johnson, Tennessee, USA, 1978 1500Gregory Hertel, Ontario, Canada, 1980 1500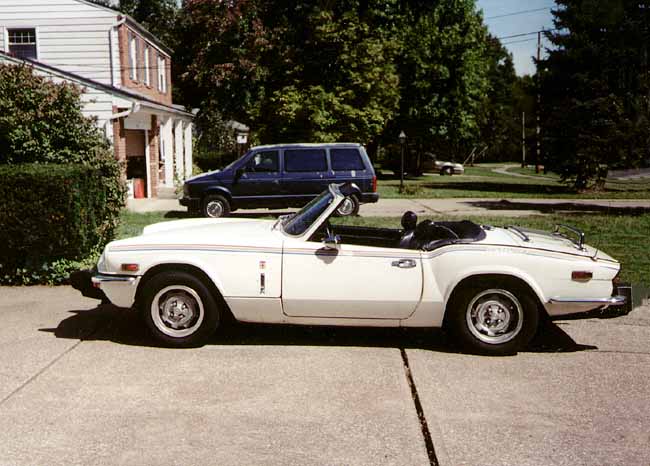 3 Stripes (red, yellow?, blue)Dean Ecclesstone, Ohio, USA, 1976 1500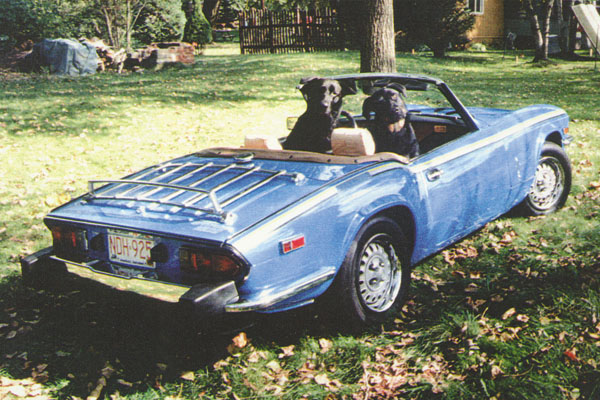 3 Stripes (yellow, silver, black)Chris Hauer, Wisconsin, USA, 1978 1500
GT6 Stripes 3 Stripes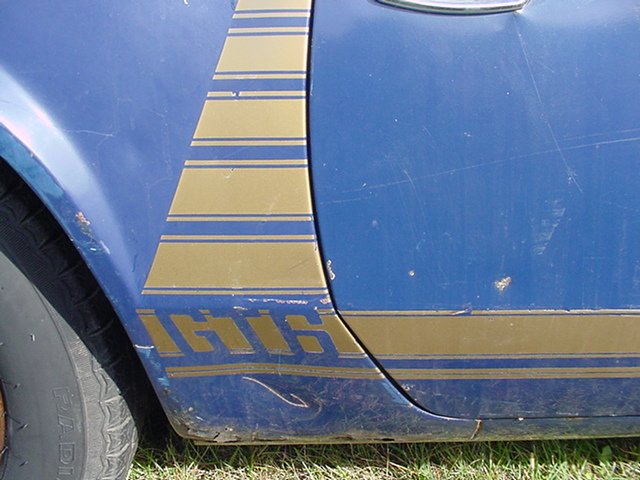 (yellow, silver, black)I stumbled upon this shot of the extremely rare but OEM MkIII optional logo strip. Its a rough pic… but you'll probably not see to many more 'direct' photos of just the logo like this.-Paul Tegler
Other Stripes
Paint Schemes Page for other, non-factory stripes and paint schemes.
Decal and Badge Placement Page
Logos Downloadable decal files for your Spitfire.