Monza Exhaust Installation Instructions
1. Remove the stock muffler system from head pipe. This may require cutting at the head pipe depending upon the model year. If cutting is necessary, measure length of Monza system and measure forward from rear bumper, mark and cut stock pipe at approximate point of connection.
2. Insert muffler clamp (item 3) between stock front head pipe (item 4) and Monza section (item 1). Location of this pipe is same as stock position.
3. Insert muffler clamp (item 3) at other end of Monza section 1. Slip fit rear Monza rear section (item 2) onto front section (item 1). Note brackets (item 5) welded atop Monza rear section. These brackets mount to long mounting brace (items 6 & 7) which shall be secured to trunk compartment floor.
4. Mark with scribe area directly above mounting tabs (item 5). With 3/8 drill bit, drill one hole on each side in alignment with bracket. Open trunk compartment and remove carpet. Insert 3/8″ bolt and secure "L" shaped bracket to area beneath trunk. The long bracket (item 7) attaches to these brackets and into the mounting tab welded atop Monza pipes.
5. Tighten all hardware and installation is complete. Start engine and inspect for exhaust leaks.
After about a week of operation, it is recommended to check all fasteners and tighten as necessary.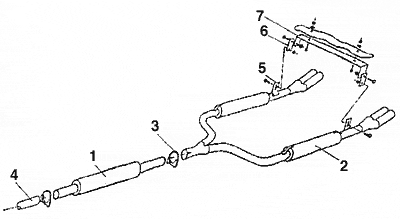 Kit Includes:
Item
Part Number
Number Included
Descripton
Item 1
1284-2
1
foreward muffler
Item 2
1284-1
2
rear dual muffler
Item 3
C134
1
1.625″ clamp
Item 4
ref.
n/a
factory head pipe
Item 5
ref.
n/a
hanger bracket, muffler
Item 6
1284A
2
"L" shaped brackets
Item 7
1284B
1
Hanger bracket, body