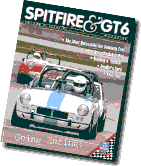 The magazine for Spitfire/GT6 owners by Spitfire/GT6 owners !
The magazine is a quarterly (printed 4 times per year) and sells for $15 per year in the US, $20 rest of the world (yes, we accept your currency). These prices include shipping. Back issues are also available.

Subscriptions (or renewals) can be ordered in the following three ways:

Credit card payment online. Visit our sister site: MagazineMuseum.com's Online Orders page. 100% secure!

Credit card payment via phone. Call 1-800-487-3333, 9-5 EST USA. (leave a message if you get voicemail)

Personal check, money order or cash. Visit the Subscription page, fill out, print out and mail it to:
Spitfire & GT6 Magazine
P.O. Box 30806
Knoxville, TN USA 37930-0806

or

Spitfire & GT6 Magazine
Beech Croft Cottage, School Lane,
Baslow, Bakewell, Derbyshire, England
DE45 1RZ

Any questions,
Printed and Digital Back Issues are available...
We Need You!
We are looking for content for the next issue. If you have an interesting story, restoration tip, engine swap, nice photos, or whatever, let us know. Any information will be considered. And as always, we would also like to show reader's cars in the upcoming issue and on this website. If you would like to show off your baby, send photos to the above address. If you have photos in slide, negative (un-cut) or large jpeg format, send them. Don't forget to include your name, city, state, year and color of your car. Remember this is YOUR magazine!
Advertisers!
Would you like to advertise in the Spitfire & GT6 magazine? Visit our Rates page for more information.

Return to Main Page